Caring Billerica, MA Dentist
Get to Know
Dr. Niraja Patel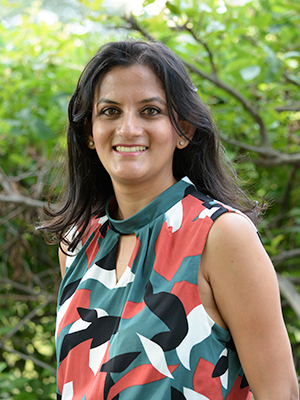 Dr. Niraja Patel graduated with her DMD from the University of Medicine and Dentistry of New Jersey, which is now known as the Rutgers School of Dentistry, with high honors. She also completed a degree in dental surgery in India, where she practiced for a full year. Due to her excellence in academics, she was on the Dean's List throughout each year of her schooling. She was also the proud recipient of the Edit Richard Endowed Scholarship, the Dr. Richard Mahewich Memorial Scholarship, and the Dr. Frank E. Frates Endowed Scholarship, which demonstrated her dedication and excellence regarding dentistry. Due to her academic achievements, she was one of only ten dentists selected for training in advanced oral surgery, which gave her extensive experience in this dental specialty. Due to her gentle approach and calm demeanor, her patients often compliment her on her extraction procedures as the most comfortable they've ever had! Continuing to care for the community of Billerica, Dr. Patel is proud to offer exceptional dental care that goes above and beyond the already exceptional legacy left behind by Dr. Paul R. Cedrone.
In order to contribute to her community, Dr. Patel has actively participated in Give Kids A Smile Day on multiple occasions and also helped blind seniors in the fishing derby. She believes learning is a lifelong process and regularly keeps herself updated with many hours of continuing education in cosmetic dentistry, Invisalign, dental implants, and advanced dental technologies.
"I believe dentistry is a beautiful profession, as it offers a unique opportunity as a healthcare provider to have a lifelong relationship with patients and provide the local community with great oral health," Dr. Patel says. "As a dentist, I would love to know your concerns, discuss your treatment options, and try my best to provide satisfactory results. Whether you need oral surgery, complex restorations, dentures, cosmetic dentistry, or treatment for your child, rest assured that I will go above and beyond to treat everyone as my own family members."
Dr. Patel met her husband Dr. Jimish Patel during her senior year of college, and they moved to Boston. In 2014, she joined the US Army Reserve and is proudly serving our country. For the past seven years and counting, she has been treating patients from all around the greater Boston area as a general dentist. Her patients love her and have great relationships with her! She is also the parent of a beautiful baby girl named Nyra and loves spending time with her as a new parent. When not practicing dentistry, her other hobbies include traveling, trying different cuisines, cooking, painting, and learning new languages. She is currently proficient in English, Hindi, and Gujarati. She's also currently learning Spanish! If you have any food or travel recommendations or parenting advice, she is always up for chitchat.